Corporate Philosophy
In order to protect the health of human beings, we:
Challenge ourselves in the revolutionary development of new drugs,
Ungrudgingly devote extra time and efforts,
Bring together the most advanced, proprietary biotechnologies, and
Aim to become a leading company in creating new drugs.
Behavioral guidelines
DWTI, which is stand for D. Western Therapeutics Institute, is also our action guidelines as below.
D
Development of originality
We pursue original technologies, concepts and know-how and aim to be the one and only company that have values.
W
World standard
To become a global venture company in drug development, we value strong low-abiding spirit and ethics, and establish financial and organizational framework to meet the world standards, as well as pursuing technological and development skills.
T
Trustworthy company
We will carefully establish the relationship of mutual trust, with gratitude and responsibilities for stakeholders, patients and business partners who support our company.
I
Immediate action
We consider speed of development is a principal factor in drug development. We will maintain the stance of constantly setting priorities, focusing on efficiency and working with immediacy.
Origin of company name
D. Western Therapeutics Institute, Inc
"D. Western Therapeutics Institute, Inc" has been named after the "Drug Western method", which is a proprietary technology our company previously owned a patent.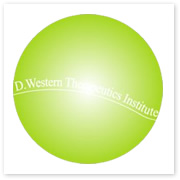 COMPANY SIMBOL MARK

Our symbol mark represents our will and hope;
we aim to be a global company,
we intend to cure patients all over the world with our innovative drugs,
we hope to provide images of peace of mind and healing.
Because of the above reason, we use a motif of the earth.