Based on the vision of bringing
"Innovative New Drugs to the World from Japan,"
DWTI is engaged in research activities aimed
at delivering new drugs to the patients who need them.
The following approaches guide the way
we develop our business.
Drug discovery
At the DWTI Group, we are engaged in the research and development of drugs that contribute to people's health.
It takes more than a decade for this research to bear fruit in the form of a drug that is approved and can be delivered to patients.
The probability of successfully developing a drug is extremely low, generally said to be one in 20,000 to 30,000. We will continue to pursue the creation of new drugs by fully capitalizing on our proven technological capabilities, which have enabled us to launch drugs that we discovered and developed in-house, as well as the proprietary science and technology we have accumulated through our R&D into kinase inhibitors.
Governance
At the DWTI Group, we recognize that corporate governance is essential to ensuring highly transparent management and the continuous enhancement of enterprise value.
At present, DWTI is a company with an Audit and Supervisory Board (four directors and three Audit and Supervisory Board members).
The ratio of independent outside directors is 50%. Also, to ensure that all executives and employees have a solid awareness of compliance issues, we have set up a Compliance Committee which deliberates and offers advice on internal and external issues.
In addition, we have set up a reporting desk and are taking steps to reinforce our compliance framework to detect any breaches of laws and regulations at an early stage.
Partnerships
Drug development is a global business, and DWTI engages in business with both domestic and international partners.
We pursue drug discovery activities not only internally but also through collaboration with other companies and academic institutions.
Our clinical development activities entail licensing out drugs to pharmaceutical companies and other entities, followed by the development, manufacturing, and sales of drugs. All our business activities are supported by numerous alliances with companies, universities, and other partners. We will continue to deepen these relationships of trust and strive for the mutual development of drugs.
Organization
The DWTI Group is a small corporate group made up of roughly 30 highly skilled employees and executives.
While high expectations are placed on each employee, management and employees in the field work closely together.
We put priority on respecting each employee's personality and individuality and place value on job satisfaction.
Women make up about 50% of Group employees, and the average length of employment is 10.1 years. Making no distinctions regarding gender, we are striving to foster a work environment where each employee can make the fullest use of their capabilities.
Funding
The DWTI Group operates on an upfront spending business model, in which R&D activities are carried out over a long period of time. Clinical development necessitates a significant amount of capital. We have taken steps to ensure capital liquidity, to enable us to respond flexibly when the need for funds arises. However, depending on the progress of R&D activities, we will explore various options, including borrowing funds from financial institutions, raising funds in financial and capital markets, and bringing in capital from outside partners. We will continue to conduct business while using capital efficiently.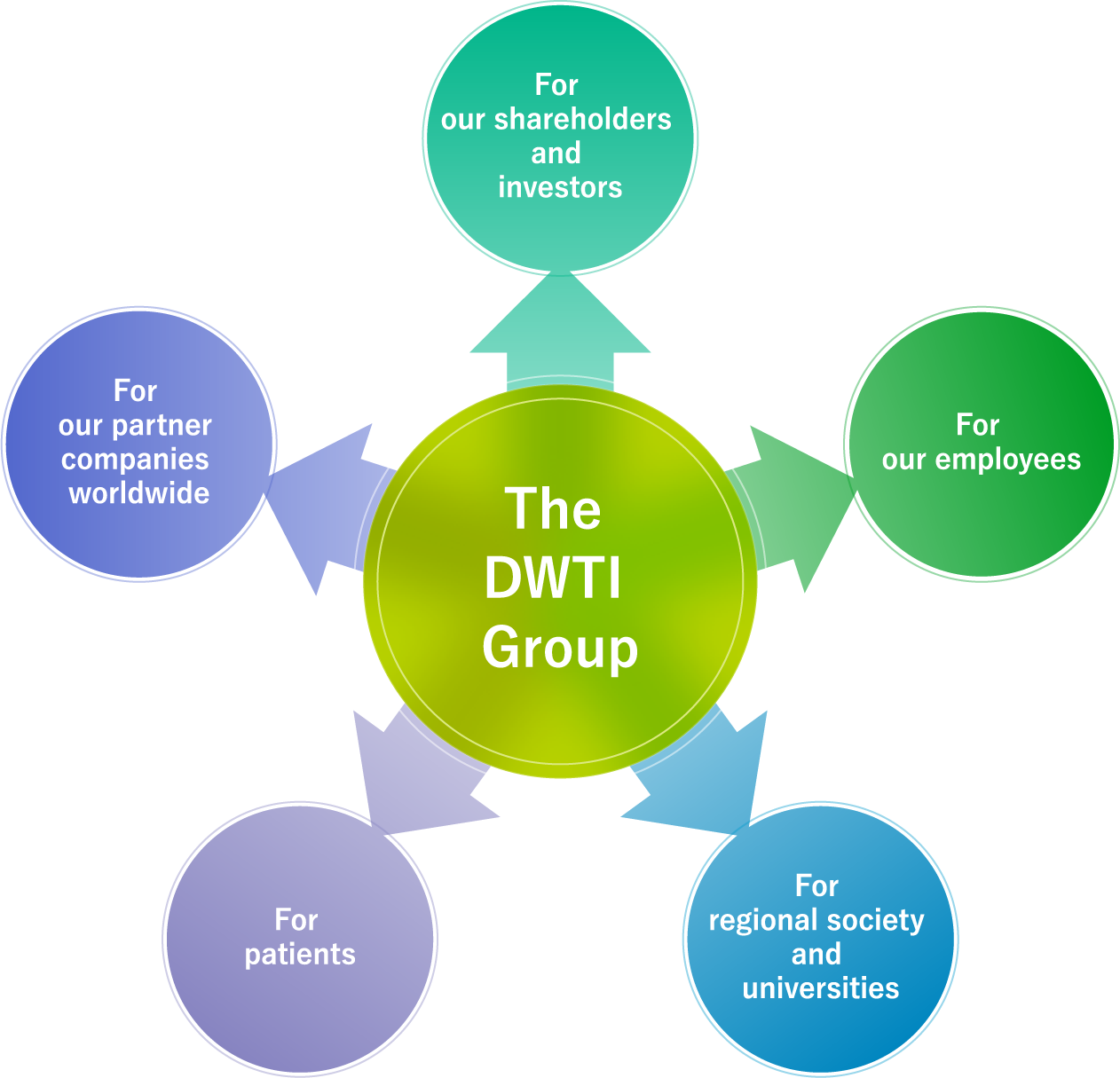 For patients

We will provide new drugs that address unmet medical needs and that improve quality of life (QOL).

For our shareholders and investors

We will disclose information in a timely and appropriate manner based on transparency, fairness, and continuity.
We will actively engage in dialogue with institutional investors and analysts and hold briefings for individual investors.

For our partner companies worldwide

Through collaboration, we will expeditiously promote mutually beneficial development activities.
We will build equitable, fair business relationships.

For regional society and universities

We will pursue joint R&D across the DWTI Group, including industry-academia-government collaboration with universities.
We will prevent accidents and disasters at business sites.

For our employees

Together, we will foster workplaces where every employee can derive job satisfaction and make full use of their capabilities.